Dont Forget to Hire These Companies When Planning a Home Remodel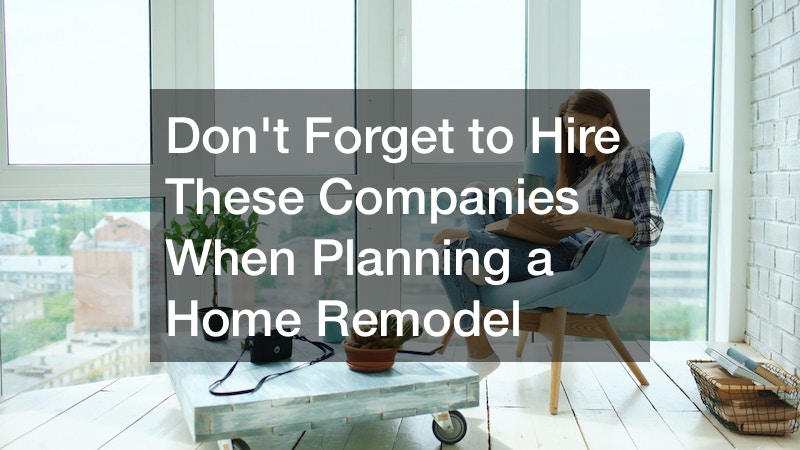 Do you plan to give your home a retouch? Remodeling your home can be exciting. However, going it alone can be overwhelming if you consider the planning and execution details that go into the process.
The good news is that you can offload the burden off your shoulders by seeking help from a professional remodeling contractor. The experts have the knowledge and experience to realize your ideal home vision. Below are the top companies you must work with when you plan to remodel your home.

1. Whole-Home Remodeling Company
First on our list is a general home remodeling contractor. Before you get into the nitty-gritty of remodeling, you need a company that deals with all remodeling aspects. These contractors address all renovation areas, from the kitchen to bathrooms and pavements. Hiring a professional remodeling contractor can significantly improve your home's curb appeal thanks to years of experience with similar projects.
Whole home professionals can save you some remodeling costs. You pay for permits and project management once, rather small components, which can add up significantly. Additionally, they have connections with local vendors enabling them to source materials at discounted prices. Therefore, you will save on cost and also get quality materials.
What's more, hiring a qualified whole home contractor will guarantee you peace of mind. They will work on the whole home. So you don't have to worry about going through the tedious process of vetting contractors to address specific areas of your home. Professional contractors obtain the requisite permits and licenses and ensure the project is completed safely, punctually, and per your state's rules and regulations.
2. Bathroom Remodeling Company
A bathroom is where we spend private time preparing to go to work and freshening up after daily hustles and bustles. For this reason, you should ensure your bathroom is in good shape. According to the Statista 2022 report, 48% of people who renovate their master bathrooms can't stand the style of their old bathrooms. You'll love the new makeover.
Remodeling your bathroom is a valuable investment that significantly impacts your quality of life. It improves the functionality of your bathroom and boosts your property value. However, the renovation project isn't a cakewalk. It involves fixing plumbing fixtures and using complex materials. For this reason, consider hiring a bathroom remodeling company to breathe new life into your bathroom.
Whether you want new attractive tiles on the floor or to install a new sink, you can rest assured a professional remodeling contractor has access to cutting-edge tools and top-notch expertise to handle the task. Remember, bathroom remodeling service providers specialize in bathrooms. They handle head-to-toe renovations, including changing light fixtures, replacing outdated countertops, and repainting vanity cabinets.
Additionally, bathroom renovators can incorporate exquisite designs such as sleek walk-ins, bold wallpaper, and wall treatment. You can count on them to provide quality service thanks to many years of experience and excellent skills. They also help you choose quality materials for your bathroom.

3. Cabinet Company
Are you planning to give your cabinets a new face? Whether you want to increase storage space, match your interior design or make a good impression, cabinet remodeling is a good idea. Elegant cabinets also make your daily life easier and boost your home value.
Installing new kitchen cabinets can be quite complicated. Nothing shouts louder than poorly done cabinets. For this reason, you should hire a cabinet expert to avoid shoddy work. Professionals handle everything from cabinet fronts to new doors, drawers, and pulls.
One of the benefits of hiring a cabinet company is that they will come up with the best kitchen cabinet design ideas. You must start with a stellar design to create a stunning kitchen remodel. Cabinet repair professionals guarantee an attractive layout and maximize your space.
Moreover, you get personalized services. They'll integrate your remodeling ideas and preferences into their design. Ultimately, you get quality craftwork that complements your interior design from highly skilled personnel. In addition, you don't have to worry about potential mistakes or missed deadlines. Reputable companies guarantee on-time delivery.
4. Fence Company
Installing a fence for your home can be a DIY project. However, it can be an overwhelming project to undertake. Consider hiring a professional remodeling contractor. According to Angi, a fence will enhance your home's privacy, reduce noise, and offer a place to grow climbing plants.
Finding the right fence company dealing in quality customized wood privacy fences can be a hustle. Therefore, you must research thoroughly. When hiring a fence contractor, consider your budget and goals. For starters, ask for recommendations from your family and friends. Talk to customer service and check their online reviews.
Once you've found a reliable contractor, invite them to survey your property and understand your needs. Ensure they give you a written fence installation contract. Before signing the agreement, read it and ask for clarification. Also, enquire about warranties and guarantees and set a deadline. A professional contractor will offer you an extensive warranty and a guarantee to complete work on time.

5. Roofing Company
The roof is one of the most conspicuous areas of your home. It significantly impacts the appeal of your house. Besides enhancing curb appeal, you should renovate your roof to enhance thermal protection, install solar roofing or replace an old roof that has outlived its purpose. You might also be forced to remodel your roof after poor installation or weather damage.
If your roof is damaged or worn out, you might be tempted to go the DIY route. However, roofing is one of the risky projects. A small mistake could cause costly damage and serious injuries. According to the Electronic Library of Construction Occupational Safety and Health, 3% of roofers die at work annually, twice the average of all construction workers. Missing shingles and mold growth will only make the situation worse. Instead of the risk, always hire a professional remodeling contractor.
A reliable roofing contractor has the expertise to effectively repair or replace your safety, thanks to years of experience. They can also access tip-top tools and equipment for safe and smooth roofing jobs. Additionally, they are well-networked with local suppliers who provide better-quality materials at better prices.
Another advantage of hiring a reliable roofing company is that they are appropriately insured. An experienced roofer will take safety measures to avoid potential problems. Ensure they have an insurance policy that covers repair and replacement costs.
Choose a residential roofing contractor that pays attention to detail and guarantees satisfactory results. Getting referrals from your family, friends, and colleagues is a good starting point. Compare prices to choose the most affordable service provider without compromising quality.
6. Floor Company
Did you know hardwood flooring is the best home investment? According to the National Association of Realtors, hardwood floor finishing has a 147% return on investment. Remember, your floor has a significant impact on the appeal of your house. Your guests will first interact with your floor before the furniture. If potential buyers see holes immediately after they enter your home, the chances of closing a deal dwindle substantially.
For this reason, you should incorporate floor remodeling into your whole house renovation. DIY is an option, and most people do it with the help of online tutorials. However, it will take the bulk of your time, and the results may be less pleasing compared to involving a professional remodeling contractor. Hiring flooring contractors will save you time, energy, and resources.
An experienced flooring contractor will provide insights regarding the materials, the cost, and trendy flooring styles to use. Whether you want hardwood, vinyl, or laminate, they can provide pro advice on the most suitable floor for your home design. If tiles tickle your fancy, they can help with that too. Tiles are affordable, waterproof, and perfect for bathrooms and kitchens.
When hiring a flooring contractor, you should seek recommendations from family and friends. Also, ask for a detailed cost estimate, their insurance and warranty, and search for online reviews. Ensure that your contractor is well-versed in different flooring materials. Seasoned floor contractors create a detailed plan that guarantees excellent aesthetic results. As a result, the value of your house will increase.

7. Swimming Pool Company
A swimming pool is an excellent investment that increases the value of your property. However, pools require constant maintenance. Whether you need to renovate your pool to give it a face-lift, install an energy-efficient pump, or address safety issues like worn-out surfaces, consider hiring a professional remodeling contractor.
A swimming pool installation company is conversant with all renovation needs. They'll design a pool that meets your needs and turn your vision into a reality. They also go the extra mile and help you acquire all the required permits.
Professional contractors know where to source quality and affordable materials. Otherwise, you risk buying inferior materials that don't comply with the local building code and regulations. In addition, a reputable contractor will incorporate the latest layout design that blends well with your home's architecture. Additionally, they provide follow-up maintenance and warranty and complete the job within the agreed timeline.
8. Garage Door Company
One of the biggest hassles many homeowners experience is dealing with a problematic manual door that you must wrestle up and down before driving in or out. A new modern garage door that operates with the push of a button brings convenience. It also fortifies your home security and boosts curb appeal. Fresh paintwork and finish coupled with new panels create an eye-catching design.
When remodeling your home, always pay special attention to your garage doors. A professional remodeling contractor installs the door correctly the first time. Visit a garage door repairs shop and discuss your garage door remodeling needs. For instance, they'll help you choose the best door style that meets your security and curb appeal desires. Specifically, garage remodelers can install automatic opening and closing mechanisms.
9. Paving Company
Paving can make or break your home outlook. A well-paved home proves attractive and appealing to guests and potential buyers. It creates a sense of style and creates clean lines. Cleaning and removing snow will be a breeze. It also boosts the value of your property.
If a contractor doesn't install your paving correctly, it might cause costly problems from car damage to severe fall injuries. If you have a paving project, we recommend contacting experienced paving contractors who will work within your budget. Hiring a professional remodeling contractor guarantees that the paving project will be perfect the first time. Ideal paving companies provide maintenance and repair after services while maintaining captivating features. They also use eco-friendly materials to promote a sustainable green environment.
When hiring a paving company, always research and compare various companies, their costs, and online reviews. You can also ask for recommendations from your colleagues and neighbors. Ideally, you should hire an experienced and insured contractor with a reputation for complying with set deadlines.
10. Bath Design Professional
Lastly, your home face-lift isn't complete without a bathroom makeover. Over time, your once-alluring bathroom will need an upgrade. The project can be complex, and it's better to call a professional remodeling contractor to help you design and oversee it. Bathroom remodeling requires in-depth technical knowledge, careful planning, and management skills.
If you love designing things, you might also get tempted to remodel your home. However, the DIY route is time-consuming and marred with potential risks. Working with a professional designer will save you time, allowing you to focus on daily activities.
Hiring a bath design company eases the burden on your shoulders by enabling you to achieve desirable designs using available space. You can select colors, fixtures, and styles to create a unique color combination, texture, and cohesive designs that meet your desired goals. They take note of your project needs and work within your budget satisfactorily.
Are you ready to spruce up your living space? Professional remodeling contractors provide splendid home remodeling ideas. You can choose a whole home remodeler or bathroom, cabinet, or paving renovation specialist. Working with experienced contractors will save you time and money in the long run. You can rest assured your project be completed in time and without risk of shoddy work, costly damage, and injuries. Go for pro services.