Essential Installations to Make to Your Home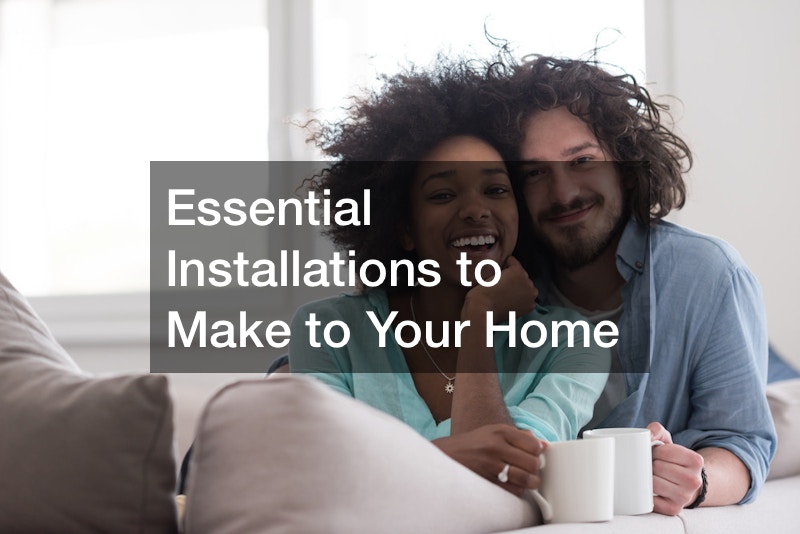 Home improvements can enhance various aspects of your property, from its beauty to functionality, comfort, and even value. However, not every improvement is worth your time and money. Therefore, you must carefully select the projects to invest in. If you plan on improving your home, below are some essential installations that can offer you a breathtaking transformation.
Flooring Installation
Flooring is one of the most essential installations you can invest in for your home. A new floor can substantially improve your house's beauty and functionality, especially in critical areas such as the kitchen, bathroom, bedroom, living room, dining room, garage, and basement. But more importantly, flooring installation has a great return on investment, which helps to improve your home's value.
According to Angi, hiring a flooring company for a new floor will cost around $2,990 on average. Of course, the exact figure will depend on the size of your home and, more specifically, the type of floor you install. And where flooring materials are concerned, hardwood floor installation is one of the most popular choices; it is strong & durable, has a great aesthetic appeal, and offers excellent ROI. Other top options include tile, vinyl, laminate, engineered wood, stone, bamboo, cork, concrete, and linoleum.
A flooring installation can be a great project, but you must maintain your new floors if you want them to last. An excellent and inexpensive maintenance idea is to hire regular home cleaning services to keep your floors looking new and shiny. In addition, you can call flooring experts for repair and restoration solutions like tile & grout cleaning, floor repair, water damage repair, mold removal, hardwood refinishing, floor polishing, and resurfacing, etc. Lastly, you can consider a complete replacement should your floors suffer from severe damage.
Door and Door Hardware Installation
A door installation is perfect if you're searching for excellent home improvement ideas. The project can offer your home a nice aesthetic change, especially the exterior if you opt for a new front or garage door. It can also improve the convenience and functionality of your home, on top of making it safer. Additionally, according to the EPA, new exterior doors can offer more efficient insulation to your home, leading to substantial energy savings.
Apart from new doors, door hardware items are essential installations that can help spruce up your home. After all, they can make your doors safer, more functional, and more attractive. And the best thing is that you can choose from several hardware options, including lock installation, new door knobs, handles, knockers, doorbells & chimes, door cameras, etc.
But how much will a new door install incur you? According to Forbes, you can expect to spend anywhere between $450 and $1,700. Of course, this will depend on the type of door you're installing – front, back entry, garage, or interior doors. The design and material will also have a significant impact on the cost. On the other hand, you can expect to spend between $250 and $500 for new hardware installation, according to This Old House.
Like every other part of your home, you must maintain and repair your new doors to improve their longevity. So, you can refresh them occasionally with fresh paint or stain, thus keeping them in peak condition. You should also hire door experts such as locksmiths to repair your door when damaged.
Window Installation
The windows are the eyes of your home's soul. That's because they affect several aspects, from its interior and exterior beauty, comfort (through lighting, noise reduction, and insulation), security, and safety (blocking pollutants). Therefore, if you're looking for a worthy home improvement project, consider hiring a multifamily window supplier for new windows.
Installing new windows can also offer you additional benefits. For example, according to HomeLight, a window project has a high ROI of up to 80%. In addition, like doors, new windows can offer better insulation and fix issues like air leaks, thus improving your home's energy efficiency. Therefore, they're another one of the most essential installations you can invest in for your home.
According to The Spruce, you should budget around $700 to $725 per unit when planning a window installation project. So, depending on the number of windows you install, your total project costs can add up to between $7,000 and $18,000. That being said, the price of a window project can vary depending on other factors such as the size, window design, material, and type of glass.
Where maintenance and repairs are concerned, you can choose from several solutions to guarantee the longevity of your new windows. These include cleaning them regularly, repainting the frames, and inspecting them for damage. And in case of any issues, you should hire prompt repairs such as air gap sealing, broken or cracked glass replacement, and frame restoration.
The exterior walls play vital roles in your home, from protecting the indoors from outdoor elements to safety & security, and enhancing the curb appeal. However, the constant exposure to wind, moisture, dust, and other threats can quickly wear down your walls. Fortunately, you can protect your walls in many ways, including with a siding installation.
Installing siding can reduce the wear and tear on your home's walls, as it's better suited to absorb or repel various elements. On top of that, according to Modernize, some siding materials have excellent thermal insulation properties, which can help improve your home's energy efficiency. Therefore, siding is one of the most essential installations to consider when planning a home improvement project.
According to Today's Homeowner, you can expect to spend between $5,000 and $15,000 when you hire a siding installer. Of course, the total project costs will depend on the size of your home and the material you choose. And where materials are concerned, some top (and stylish) options include wood, fiber cement, stucco, metal, vinyl, stone, brick, and stone veneer.
Siding may be durable but requires maintenance and repairs to keep it in peak condition. Therefore, once you install your siding, you must hire regular maintenance services like power washing, repainting, and re-staining. Additionally, you should inspect your siding regularly and hire contractors to fix issues like scratches, dents, cracks, holes, and other damage.
Patio Installation
A patio is another one of the essential installations you can consider for your home's exterior. It can help you create a beautiful outdoor space for relaxing, having fun with your family, and entertaining guests. In addition, it can help transform your yard, improving your home's curb appeal. Furthermore, according to Angi, a patio install has a high ROI of up to 80%, making it one of the top ways to add value to your property.
You can choose from several materials when installing a patio in your home. One of the top options is a stone patio installation using natural stone pavers or blocks. Others include brick pavers, concrete (precast or poured), slate, wood, loose gravel, flagstone, mixed materials, etc. According to HomeAdvisor, installing your patio will cost around $3,802, but it can also be lower or higher depending on the materials you choose.
Besides installation, patio maintenance and repair are other vital aspects of home improvement to invest in. For example, you can keep your patio looking perfect through regular power washing to remove dirt & debris, stains, algae, mold growth, etc. Additionally, you can hire a patio contractor to repaint, reseal, re-joint, resurface, and repair (cracks, chips, potholes, etc.) your courtyard, thus increasing its longevity.
HVAC System Installation
According to a 2022 Angi Survey, HVAC projects are one of the most popular home improvement projects for homeowners. This is because of the vital role of a heating and cooling system, especially in maintaining comfortable temperatures and good indoor air quality. Therefore, installing a new HVAC unit can be an excellent idea if you're looking for essential installations to transform your home.
Besides improving the comfort of your home, an AC installation can help significantly lower your energy bills. That's because newer units are much more efficient, thus, spend less power when cooling and heating your home. And on top of the energy bill savings, a new HVAC system will reduce your repairs and maintenance costs, leading to even more savings.
When planning an HVAC project, you should understand it's not cheap. According to Angi,
a new system will cost you between $5,000 and $10,000. However, the price can be higher when considering other expenses, such as ductwork repairs and a robust filtration system. Nonetheless, it's a worthy project to invest in, especially given its high ROI (up to 60%).
After installing your HVAC unit, you must invest in regular maintenance and repair services. These include filter changes, inspections, condenser and evaporator cleaning, duct cleaning, leak repair, furnace repair, etc. This way, you'll keep your HVAC system running efficiently while minimizing the risk of a breakdown.
Roofing Installation
A new roof can offer your home better protection against rain, wind, snow, ice, and other outdoor elements. It can also improve its curb appeal and energy efficiency, and value. Therefore, a roof is another one of the most essential installations that can help to spruce up your home.
You can also improve your home by installing additional roofing features during your roofing project. For example, you can hire a gutter installation company to install or replace your gutters, thus protecting your home from rainwater damage. Installing solar panels is another excellent idea that can help make your home more sustainable.
Regarding the costs, your budget will depend on the roofing project you wish to invest in. For example, according to This Old House, a new roof will cost you between $8,500 and $14,300. On the other hand, you can spend around 3,234 on a gutter installation (according to Architectural Digest) and between $63,000 and $75,000 on a solar roofing installation (according to Modernize).
A roofing installation is an excellent home improvement project, but it's just the beginning. To protect your investment and keep your home looking fabulous, you must hire a roofing contract regularly to maintain or repair your roof. Some services the contractor can offer you include roof cleaning, roofing inspection, leak repairs, shingle replacement, and roof restoration. You may also need to hire additional contractors, for example, to maintain and repair your gutters, solar system, and other roofing installations.
Fence Installation
Installing a fence allows you to control who gets in and out of your property, making your home safer. On top of that, a fence helps to keep your kids and pets within your property, ensuring their safety. But besides safety and security, it can help improve your home's curb appeal and value. Therefore, a fence is one of the most essential installations you can spend on during a home improvement.
When planning a fence installation for your home, you must choose a suitable material depending on your budget, style, durability, and personal preference. Some top material options are metallic, wood, vinyl, composite materials, and a green fence. According to Bob Vila, a new fence will cost between $13 and $25 per foot (depending on the material), translating to a budget of between $1,743 and $4,431 for the entire project.
During a fence install, gates are another project you can invest in. Like fences, gates help to improve safety, security, and curb appeal. You can choose between different gate options, for example, a driveway gate installation and a side yard gate. You can even install gates within your yard to control access to specific areas, such as the garden and swimming pool. According to Fixr, you should budget between $1,000 and $12,000 when planning a gate project.
Like other essential installations, you need care for your fence and gate to keep them in top condition. Therefore, you should hire regular maintenance services like power washing, painting, re-staining, and resealing. In addition, you should call a contractor for prompt repairs whenever you notice damage on your fence or gate.
You can choose from many projects when planning to improve your home. However, the above essential installations can help transform your house into your dream paradise. They can also offer several other benefits, like improved energy efficiency and a high ROI, making them excellent investments for your property.