Important Tips Regarding Selling a Mobile Home Fast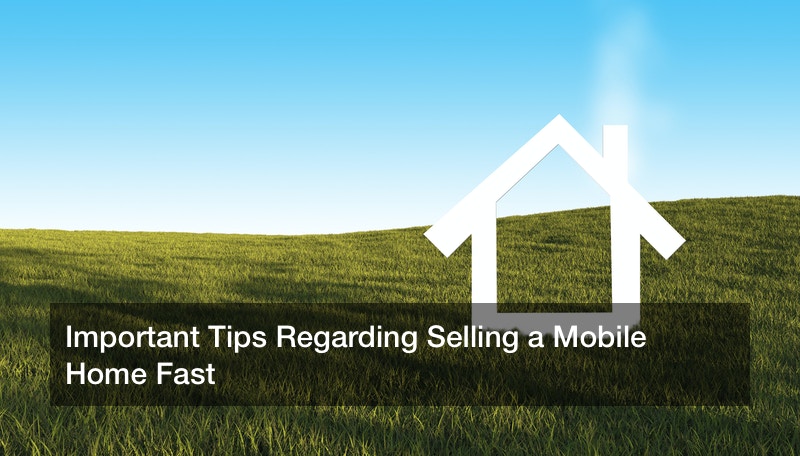 In the current day and age, the need for ready money can surface at any moment. Whether it is an unexpected expense that you need to account for or finding a way to survive when you are not being able to work and earn a living, you might face a situation like this at any time. If you are already facing such a situation and you own a mobile home, you can quickly sell the mobile home to generate the funds that you need. Selling a mobile home, whether as a viable option or a last resort, can definitely be one way to get your hands on important funds that you need urgently.


Selling a home quickly, in certain cases, can involve making some compromises. You might not always get the price you want if you do not have the time to properly research your options and find the right buyers. However, with a mobile home, selling your home fast does not have to involve losses on your part. By carefully understanding the process of selling your mobile home and finding the right parties that might want to purchase it can ensure that you get the right value in spite of selling quickly.


Getting cash for mobile homes involves, at first, researching your options to find out the advantage and disadvantages of taking a fast approach. For quick home sales, you would want to find cash home buyers in your area and find ways to eliminate extra costs. However, it is important to start off by correctly determining the value of your home. This way, you can have a ballpark idea about the price you can ask for it and funds you can get in return.


There are two important facets to determining the value of your mobile home. At first, you need to consider whether you own the land on which the mobile home is situated. If it is, it can be considered real property. If you are just looking to sell the mobile home without the land, it would be considered personal property and would be valued appropriately. If your mobile home is on leased land, the owner of the land would definitely have some say in the matter.


Depreciation is also a factor you need to take into account. In order to successfully estimate the possible cost you have to consider how old the mobile home is and the current condition it is in. Selling a mobile home also depends on the level of demand that is prevalent in the area. If you want to avoid the costs of a professional appraisal, you can consult pricing reports of mobile homes from reputed companies to form a ballpark idea.


Another tactic you can adopt for selling a mobile home fast and easy is to avoid real estate listings. Not only can this cut into your profits but can also mean more time spent on the listings while you wait for a buyer. Selling a mobile home directly for cash is a much better strategy in this regard and is more likely to fetch you something close to the actual value of your mobile home.


One of the ways you can make this work is by choosing to sell to an investor or a professional mobile home buyer. In such cases, you can save a lot of time and money. First, there is no need to list your property with real estate companies. This can also save you administrative costs, agent fees, and commissions. You can also avoid having to market your home aggressively. There would be no need to pay for advertising or spend time photographing your home for marketing.


The most important advantage of a direct sale is the fact that a sale can be achieved in very little time and without much effort. While going through the listing process can take months, the direct approach can get your mobile home sold in a matter of days in many cases. A lot of extra costs, a lot of effort and hassle can also be avoided if you can directly find a buyer for your mobile home or choose to sell to an investor.