5 Spring Cleaning and Maintenance Tips for Automatic Garage Doors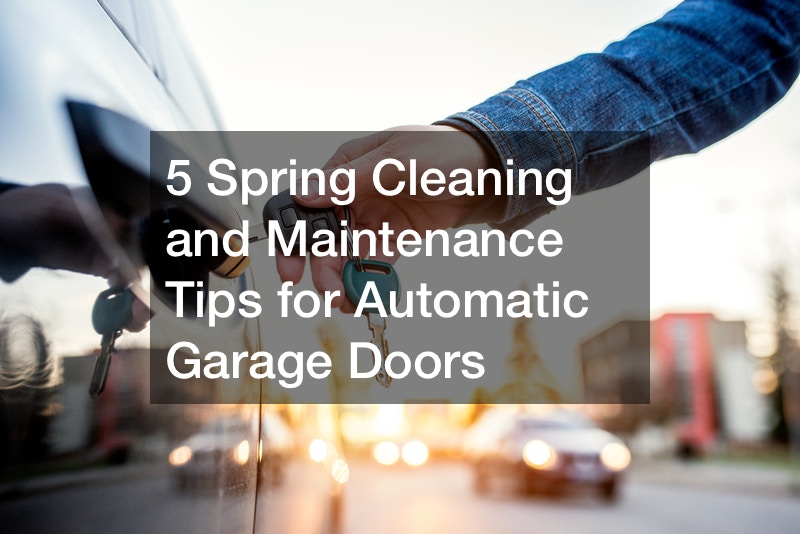 Do you have questions about what is needed for a full-scale garage door overhaul? Are you looking for someone to handle your garage door installation repair needs? Are you confused about all the various garage door services in the area? Do you want to know more about the garage door panel repair kit options you keep hearing about? All of your garage door system questions and needs can be addressed by your local garage door repair company or the local contractors in your area.
Working with local contractors and garage door companies will ensure you get the best quality possible when it comes to garage door repair services, products and materials, and entire operating systems. Your local garage door experts are there to lend a helping hand with all garage door maintenance and repair services that you may require. They have the skills and experience needed to help you get the most out of your system and to ensure it works when you need it to. Be sure to call them today to get started!
Spring is just around the corner, which means it's time to start thinking about taking care of any damage harsh winter weather has done to your garage. Especially when it's cold out, it's easy to forget regular cleaning and maintenance, but it's important that you stay on top of it to ensure your garage doors stay in good working order. Here are some simple tips so you can take on the task as soon as it's warm enough:
Clean Your Garage DoorsIt's surprising how often this chore is overlooked, but it's really not too much work. As soon as it gets above freezing in the spring (and before it gets below freezing in the fall), clean your garage door inside and out with warm, soapy water — a mild detergent is best, rather than a harsh cleaning agent. A mop or bristled brush works well. Wood doors will need refinishing every two years or so, so you should also keep an eye on the overall condition of your doors and plan ahead for that task.
Lubricate Tracks and HingesEvery three or four months, lightly lubricate tracks, hinges and rollers using oil and wipe away the extra. If you have automatic garage doors, keep in mind that the opener itself should not need extra lubrication.
Check Your Weather SealThis another task that should ideally be done once in the spring and once in the fall. A good weather seal under the door will prevent flooding from snowmelt or spring rains, so you won't want to neglect a quick inspection.
Inspect All SpringsAt least twice a year, you should inspect the springs on your garage door to make sure they're not worn or stretched. For automatic garage doors, garage torsion springs and extension springs can hold the full weight of the door — anywhere between a few hundred and a thousand pounds — so you'll want to call a few garage door companies and get quotes for a professional spring adjustment.

Test Safety FeaturesAutomatic garage doors are required by law to have built-in safety features that stop them from crushing people or objects. You can test this function on your door by pushing the button to close the garage door and then waving a long object (such as a mop, not your arm), in front of the camera sensor to make sure the door reverses.
Can you share any cleaning and maintenance tips to help homeowners avoid garage door repair bills down the line? Discuss in the comments.