Home Improvement Ideas for a Mountain Home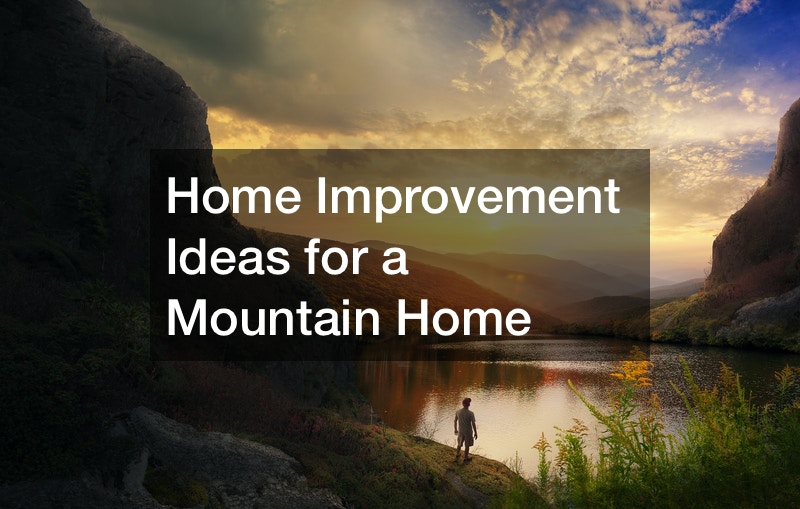 What is the best way to get away from busy city life? A mountain home. The fresh air, the serene mountain space, and the spectacular view are something to anticipate. For people who love privacy and appreciate nature, mountain living provides the perfect opportunity to live in tranquility.
Mountain homes are in places with very inviting weather. You have favorable conditions for winter sports and cooler summers for vacationing. Everyone knows how unforgiving the summer heat can be. A Mountain home is the best place to experience nature at the peak of its powers.
The snow, the cooler summer temperatures, and the wealth of recreational activities make mountain life quite fulfilling.
Why You Should Consider Building a Mountain Home
There are plenty of reasons to consider a mountain home. Aside from the serenity and tranquility, there are also several health benefits. Living in high-altitude areas contributes to longer life and improves holistic health. Several recent studies have better health and higher elevation to be jointly exhaustive. These studies also show that people who live at higher altitudes are less vulnerable to disease.
Clean mountain air also means less stress, better circulation, and a lower risk of asthma. Mountain air has less contaminates and is fresher than other areas. The tranquility of mountain life also means less noise pollution. Without this noise, you get a good night's sleep. More uninterrupted sleep means less stress and more productivity.
Mountain dwellers are also significantly more active than town folk. They have more activities and do more cardio exercising. This workout means they are at a lower risk of heart disease and other related illnesses. Mountain life encourages people to go out and experience the great outdoors. It is a fulfilling lifestyle that gives you a new lease on life. For people frustrated with town life, perhaps it is time to consider a mountain home.
Critical Elements in Mountain Home Design
Once we sell you the idea of mountain living, there are a few design tips that you need to consider. The aesthetics of the architecture should blend into the environment seamlessly. You also want the best scenery and a 360-degree view of magical mother nature. Whether building a summer home, villa, cabin, or resort, the rules are the same.
What You Need to Know
The idea of mountain living is to experience nature. This scheme means utilizing natural light, preserving waterways, and designing drainage systems that do not pollute the environment. The house should blend into the landscape in every shape and form. Find a site that blends in and does not disturb any existing flora and fauna.
Energy Considerations
Sustainability is also a critical part of this system. Energy efficiency should be a top priority in the design of your mountain home. Most people build these homes to be closer to and appreciate nature. The most common energy source in mountain homes is solar power. This energy source has unlimited raw materials, is renewable, and has low maintenance costs. While the initial investment may be a bit high, the return on investment is worth it.
Solar power is accessible in mountain homes because of its availability in remote areas. Even people deep into the mountains can easily access solar energy conveniently. Solar power is reliable and saves you thousands of dollars in energy bills. There are other alternatives, such as geothermal heat and garden variety firewood.
Multiple Structures
A stand-alone cabin on a mountain seems odd and creepy. The recommendation is to build a system for supporting structures to create a family compound. The idea is to create visual appeal. These compounds make your mountain home complete, and they are aesthetically pleasing.
Lighting
Remember you are in the mountains. Exterior lighting is a critical component in these areas. The purpose of outdoor lighting is to enable you to maneuver through the compound at night. It also helps to illuminate your mountain home and make it stand out. With the right blend of colors, your home will be seen and appreciated from miles away.
Home Improvement Ideas for a Mountain Home
Refurbishing is a time and cost-intensive process for many homeowners. While most people try to make it a DIY project, it is advisable to go for professional remodeling contractors. Experts in the industry have the equipment, the expertise, and the professionalism to deliver value for money. It may be simple window replacements, furnace repairs or comprehensive local roof repairs, but no matter what it is, always hire a pro.
Never try any project that involves electricity. Regardless of how many DIY projects you have done, this is a dangerous and potentially fatal project. In case your redesigning requires re-wiring, hire a licensed electrician.
Modernizing Your Mountain Home
The first step in your home improvement journey should be modernizing your mountain home. Sprucing up your mountain home involves anything from repainting the walls to changing the entire furniture. If you've had the house for a long time, you may want to change a few things. Perhaps the walls need a facelift, or you need a fireplace repair kit to give more life to your living room. Whatever the case, upgrading your mountain home need not give you a migraine.
Note that this is a long-term project. Take time to develop the style and look you want to achieve and plan your approach. People love Mountain homes because of their abundance of natural light. The windows need to be big to accommodate and take advantage of this light. You can go for window shutters as a way to limit the light. Window shutters work better than curtains, and they regulate light more effectively.
Color Scheme
There is an obsession with white walls. Homeowners seem to think that these walls are appropriate for any setting. This color is minimalist and does not complement the outdoor scenery. Your mountain home should be warm and inviting. Natural wood is what most people use in the construction of these homes, and some colors don't work with this system. You are in the middle of the mountains, so your home should create a similar contrast.
The best colors for mountain homes are either gray or any of the various shades of brown. Brown matches the wood interior and the trees. The gray represents the mountains. Another way to create a unique look is to mix several colors. A multicolored mountain home stands out and is visually pleasing.
Siding Solutions
There are several options for siding. You can choose brick, wood, or shingles. The material you choose will depend on the design of your mountain home and the theme you want. Brick siding matches the scenery, stone siding matches the mountains, and wood siding matches the vegetation.
You need siding contractors who understand your dreams and have relevant experience for solutions that complement your home. Siding installation requires expertise and an eye for detail. So ensure you get the right person for the job.
Window Design
Mountain homes are all about the beauty and magnificence of the natural world. You can only capture the abundance of natural light through windows. Take a look at any home design that has lots of windows. It looks breathtaking both inside and out. Once you get the correct blend of lighting and window space, your home will become the talk of the mountains.
Having lots of windows maximizes your scenic view and allows you to utilize natural light. The light from inside your house also looks great at night.
Slanted Roofing
Always be creative in your home improvement quest. Modern experts advocate for slanted roofs as the best solution for mountain homes. They come in various styles, and they have plenty of benefits. First, pitched roofs offer thermal insulation. This advantage means that the pitch reduces the surface exposed to the sun. Pitched roofs are 15% more compact, and they last longer.
Slanted roofs also allow you to trap and reuse rainwater. The pitch allows the water to travel to your gutters, where you can save it and use it later. You can redirect the spillways to water storage tanks or modify them to suit your purpose. These roofing solutions are highly sustainable and recommended for solar panel installation.
Slanted roofs have several other perks. They are cost friendly, energy efficient, and stylish. They give your mountain home a more modern and scenic look.
Cottage Design
A cottage design would be excellent if you have a family and want to set a holiday home in the mountains. This design is cozy and beautiful. You can alter and modify it to create a stylish mountain home design. One design idea would be to mix the exterior colors to match the scenery. You could use black and white or dark brown to complement the trees. You could also invest in a stone exterior to make it look simple but sophisticated.
Upgrades
Improvement means improving functionality. It is not just about the exterior appeal. You also need to invest in upgrading appliances and fixtures. You may not have the money to buy new stuff, but you can always start by improving your plumbing and overall fixtures. There are plenty of catalogs with affordable plumbing services that you can look through to help you improve your home.
You have the option of replacing your flooring with more durable and attractive flooring. Go for vinyl, hardwood, or epoxy. You can also mix these up. If you go for a hardwood living room, you can complement it with an epoxy garage floor coating.
Get rid of old patterns and styles by putting up new wallpapers. Change your countertops and replace worn-out or damaged furniture. These processes may seem like a lot, but remember, you are not doing everything at once. Draw up an action plan and prioritize the improvements over a certain period.
Landscape
Don't concentrate on other projects and forget about the landscape. Before you begin any significant renovations, try to plant a few trees and some flowers. Landscaping is the cheapest and most fulfilling home improvement endeavor on this list. Do some research on the plants native to the area and the ones that thrive. Unlike other renovations, landscaping is simple and requires little investment.
Greenhouses in the area will advise you on local plant life and how you can beautifully landscape your home. Do not overlook this home improvement idea. Research shows that landscaping increases property value significantly. Although landscaping takes time, it is one of the most effective ways to beautify your mountain home without breaking out the bank.
Outdoor Chill Areas
You can also set up a place in your yard where people can sit, relax and enjoy the scenery. It does not have to be fancy. All you need is to utilize any unused outdoor space. Start with a few chairs, maybe a rug and a table. It does not have to be a permanent structure. You can put up an umbrella and arrange the chairs around it.
Outdoor spaces are a hit mainly because people spend their mountain life outside. This space is ideal for hosting guests or family gatherings. You can go for bricks and stones or use the grass. You can also set up a gazebo if you have extra money to complete the outdoor look. The outdoor space is not just for visitors. It can be a good spot for you to enjoy the sunset as it disappears behind the mountains. Outdoor spaces are critical parts of this system and increase home appeal.
Verdict
Improving your mountain home is a lot of work. It takes a lot of patience to get the product you want. To ensure you get value for your money, hire an expert contractor.