7 Tips to Keep In Mind For First-Time Homeowners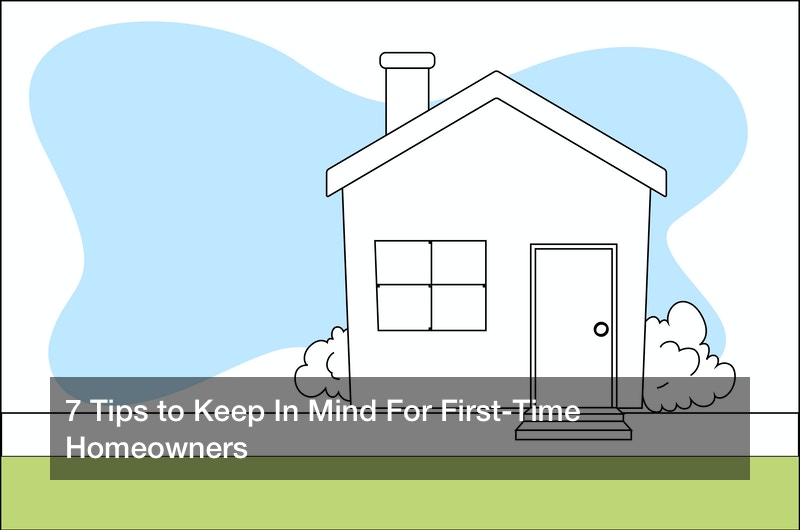 When you're preparing to buy your first home, there is a lot of conflicting advice out there. Everything from closing costs to maintenance and repairs has to be considered. It comes as no surprise to discover, then, that most first time homeowners find themselves feeling absolutely lost when it comes to knowing what they should focus on. Thankfully, if you are in such a position, you are not alone. By following these simple tips, you can be sure that your first experience as a new homeowner goes as smoothly as possible.
1: Make a Budget for Buying Your First Home
There is much to stay about the current housing market. There are many different factors to keep in mind as you look at different homes for sale. It's tempting to peruse each and every piece of real estate that you happen to come across, but it's usually a good idea to put some budgetary constraints in place before you get too involved in the process of finding a new home for you and your family.
When you determine what kind of house you want in advance, you can really help to minimize your options in a meaningful, productive way. Without some idea of what you're looking for, finding a house can be a laborious process filled with numerous roadblocks and pitfalls. Devising a strategy in advance helps you avoid this.
In a similar way, developing an accurate house buying budget in advance is also a wise idea. While some people tend to view a budget as a kind of financial prison, it's really there to serve you. In fact, you may even discover that your budget is your friend. A good budget can help to keep you accountable to your other financial goals and considerations while also leaving enough room to find the perfect home for your family.
An accurate budget will also help you determine what kind of additional funding sources you might need to pursue in order to obtain the home you want. For example, you may discover that making use of hard money loans is a way to free up the funds you need to purchase a new home. Your budget will also allow you to see how much wiggle room you have for home improvement projects and other repairs that you may need to perform in order to get a home looking the way you want it. A good budget can never be underestimated when it comes to the home buying process. Once you've got a budget in place, you can move on to the more complex parts of becoming a first-time homeowner.
2: Look Into Homeowners Insurance
Similar to outlining your budget, you'll want to be sure that you educate yourself on the different kinds of homeowners insurance that you might need for your home. While it's not always the most glamorous part of the home buying process, home insurance can end up being a lifesaver in the long run. Not only does homeowners insurance give you a financial foundation for your home, but it can also protect you in the event of an unforeseen disaster such as a flood or a fire.
You don't need to become an overnight expert on home insurance, but you'll certainly want to learn about your different options. Those with a strict budget may want to shop around a bit more before locking into any one particular deal. There are lots of different approaches you can take to managing your home insurance payments, so it may be a good idea to meet with both an insurance agent and a certified financial planner to ensure that your insurance policy falls in line with your budget. No matter what type of home you end up buying, you'll want to be certain that you have an adequate home owner's insurance policy in place.
3: Take Care of Remodeling and Maintenance Projects
Home improvement projects are a major part of any first time home owner's life. Even though you might want to view your home improvement projects as a chore you'd rather not do, they can actually be the source of a lot of fun, joy, and fulfillment. The right home improvement projects allow you to customize your home and make it your own. Many other people agree, too. In fact, it was estimated that total U.S. home improvement expenditure amounted to about 394 billion U.S. dollars in the year 2018.
Of course, some home improvement projects, such as HVAC repair, may be necessary in order to ensure safety, performance, and efficiency in your home. But some home improvement projects are focused, instead, on creating unique stylistic touches that also add value to a home. Take, for example, a home addition. Sometimes what may seem like a simple, straightforward home remodel on the surface can lead to a significant transformation in the overall look, feel, and tone of a home. A lot of first time homeowners find that these kinds of home improvement projects are a necessary part of the nesting process, and serve to help them really feel as though their new home belongs to them. It also helps to know that a simple home improvement project you complete now may lead to an increased home value in the future if you ever decide to sell the home.
4: Keep Your Home Clean
As another important piece of making a house feel like it belongs to you, cleanliness should never take a back seat to other homeowner concerns. Of course, larger, more obvious parts of your home such as floors and ceilings require a close eye to cleanliness, but you should overlook the importance of cleaning other parts of your home such as the windows and doors. Taking care of these kinds of details that may seem small add up over time. Keeping your home clean helps you associate your home with positive, uplifting sensations, rather than negative ones. Any home should be a place that feels relaxed, warm, and welcoming. Keeping things clean is a key component of nurturing your home.
Making sure that your home stays clean has never been easier. With so many different technological cleaning products and modern cleaning services, you don't have to worry about keeping on top of your regular cleaning schedule. Using technology such as a cleaning robot can help you take care of some of the most tedious parts of the cleaning process. Furthermore, you can always hire qualified professionals to visit a few times a week so that you can focus on other parts of your life. However you choose to go about doing it, you should never ignore the important role that keeping your home clean plays in your overall happiness, clarity, and satisfaction.
5: Learn About Your Home's History
Learning about the history of your home can be an excellent way to get to know the specifics of its architecture, ongoing upkeep, and other kinds of interesting facts that can help you make better decisions for the future. In addition to making your life easier when it comes time to do repairs and home improvement projects, learning about the history of your home can also help you to take more pride in your ownership. Sometimes just knowing where you sit in the history of the home's owners can produce a sense of individual responsibility that can truly help to make any ordinary house feel like a home.
A home's history can reveal a lot to the modern homeowner. If there are any glaring problems with major parts of the home such as the plumbing or foundation, then it can be helpful to be aware of them in advance. Doing a thorough rundown of all past owners, including taking a look at any notes they have left behind, can help you to be more prepared and informed on any issues with the ongoing upkeep of your new home.
6: Discover What Makes Your Neighborhood Unique
Whether you're just getting to meet the neighbors that are closest to you, or if you're planning to attend a neighborhood mixer event, it's never too soon to start getting to know the things that make your neighborhood one of a kind. Regardless of where you live, one of the most fulfilling parts of becoming a new, first-time homeowner is the process of becoming part of a larger community. Making friends with your neighbors is also an excellent way to ensure you will have some help on hand the next time you need assistance with a home improvement project.
Most of the joy of moving into a new home lies in discovering all the distinct characteristics of your local community. You can begin by getting involved with some events in your area that will help to get you more connected. It's also a good idea to try and become a regular at a local bar, restaurant, or business. Taking these kinds of steps to immerse yourself in your community from the start is a great way to feel as though you belong in your new environment. Once you make some new friends, be sure to invite them over and offer a tour of your new home!
7: Stay Ahead of Inspections and Check-Ups
Home inspections are an unavoidable part of acquiring a new home. The level and frequency of required home inspections will depend on the life of your home and your specific location, but it's always a good idea to do your homework so that you can stay ahead of home inspections and other check-ups. Many homeowners find it helpful to keep a log or journal with any relevant dates for upcoming check-ups. This helps because you can stay mindful of inspections rather than finding yourself surprised when they come around.
You can typically find a template list for your state's, city's, or county's inspections online. You may also want to make a visit to your local library if there are any aspects of homeownership that you're just not clear on. Most libraries have comprehensive reference sections that include detailed information on home inspections and more general subjects related to buying a home for the first time. Gathering the right resources as you traverse the new territory of having your first home can really make things that much easier on you and your family. Inspections can be intimidating, but as long as you're prudent you shouldn't have any problems with them.
Keeping a home journal or inspection schedule can also give you the motivation you may need to develop a comprehensive home owner's budget. When you have an accurate budget for inspections and follow up repairs in place, you can really reduce the level of stress and worry that you experience when different parts of your home require some amount of your funds for fixes, repairs, and other home improvement projects. When you are less likely to be surprised by an expense, then you are able to handle the costs associated with owning a home in a way that minimizes stress and anxiety. As any experienced homeowner knows, it's usually only a matter of time before some part of your home will need attention. Being prepared ahead of time is far more preferable to being taken by surprise.
8: Don't Be Afraid to Ask for Help
Finally, you should know that you're never alone when it comes to owning a home for the first time. It's okay to give yourself some forgiveness when it comes to aspects of homeownership that you may find troubling or challenging. It's always a good idea to remember that there is help available to you at every step of the way.
Not sure how to find the best homes for sale in a certain area? Reach out to a local, established real estate agency to assist you with the home buying process. Often times just having the right realtor can lead you to amazing deals that you may never find on your own. If you're having trouble devising a clear budget for your new home, don't hesitate to hire a certified financial planner. This kind of help can really illuminate areas that may otherwise remain a mystery to you as a first time home buyer.
For any home improvement projects that may seem too daunting to attempt on your own, you can always turn to the services of a local contractor. Regardless of what kind of help you find yourself needing, the important thing is to remember that you don't have to do everything on your own. There are many people out there who are willing to help you make your home look and feel the way you've always imagined it. You just have to look!
As you can see, being a first-time homeowner can be full of unexpected obstacles and challenges. However, there is little that is more fulfilling than owning your own home, taking care of it, and developing it into a place of residence that meets all of your wants and desires. Remember these simple tips and you're sure to be happy as a first-time homeowner. Good luck!