7 Simple DIY Projects To Improve Your Home in 2020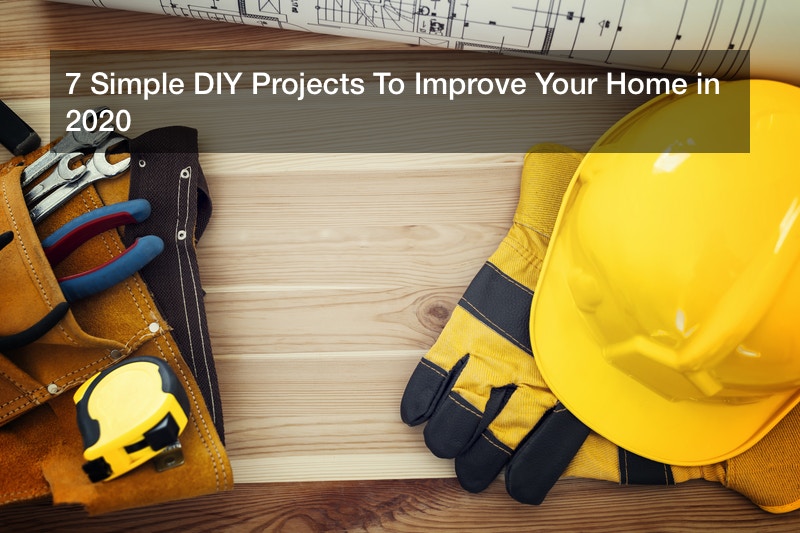 We all love a project — the proof being that in 2018 alone, Americans spent about $394 billion on home improvements. While some home improvement projects require the assistance of professionals, a lot of simple jobs can be handled by homeowners.
The question is less what you can do and more where you should start. Most of the time, homeowners put off simple DIY home improvement projects because they just don't have the time. But now, thanks to the COVID-19 pandemic, a lot of Americans have more time on their hands than ever. And even more of us are spending more time at home than we previously would have imagined. What this probably means is that simple issues within the home that you normally wouldn't take notice of are now bugging you. In addition, it's likely that you're quickly becoming very bored. Why not solve both of these problems by taking on some simple DIY home improvement projects while you're housebound?
Now, this doesn't mean you should start renovating your house from the ground up. What it does mean is maybe surveying your home by yourself, walking around, and making a checklist of things that need to be improved. While a lot of states still have non-essential businesses closed down, many have allowed home improvement stores to remain open. This means that even if you don't feel comfortable with leaving your house, you can have the necessary supplies delivered to you and get started on your projects sooner rather than later.
For that matter, many people are discovering that they not only want to improve things inside the house but outside it as well. Home improvement projects aren't merely practical, either. While you'll certainly want to take care of the things that need to be fixed first, you can also take the time now to improve the appearance of your home and the surrounding property that it sits upon. With that being said, let's look into some of the simple DIY home improvement projects that you may want to fill your time with.
1. Replace Your Filters
If you're allergy-prone, you'll probably notice sooner or later that your home's air filters need to be changed. Your residential HVAC system can last for quite a long time with the right maintenance, with some for around 25 years. However, their longevity is undercut and their usefulness diminished if their filters are left unchanged. This can leave dust and allergens in the air and lead to homeowners experiencing coughing fits. With that being said, many homeowners don't even realize how simple and inexpensive it is to change their own air filters. All you really need to do is look up a tutorial online for your system and walk yourself through the steps. Why spend money on having a professional take care of such a minor task when you can handle it yourself?
2. Revamp Your Plumbing Fixtures
The fact is that you probably have more plumbing fixtures than you think. If they're left out of date, they could eventually experience rust and buildup that is virtually impossible to keep up with. This is the kind of thing that will diminish the appearance of your home and make certain rooms more frustrating to use. Luckily, it's usually fairly easy for homeowners to install new plumbing fixtures on their own. Depending on the type of plumbing fixtures that you choose to install, you could very well end up revamping the look of your entire bathroom or kitchen. These are the types of simple DIY home improvement projects that take relatively little effort and money but can make a big impact.
While you're at it, you may want to look into your drains at the same time. Clogged drains have a number of different negative side effects. They force water to pool in tubs and sinks, and it can take quite some time for that water drain. During this time, bacteria will accumulate in the area, as will soap scum, creating a terrible appearance. Furthermore, when drains become overly clogged, you risk the possibility of a plumbing backup to occur. These are the types of simple DIY home improvement projects that will prevent you from a much bigger, less simple fix down the road. While cleaning out clogged drains may not be anyone's idea of fun, it is a necessary part of running a household.
3. Install a Sprinkler System
You may be looking outside your window during your time at home, wishing that you were outside, when you realize that your lawn is rather sparse and perhaps dryer than you realized. There's a reason why homeowners take pride in their lawns. As cliche as it may seem, a lawn is really the first thing that people notice about your home's exterior. While a great-looking lawn reflects the fact that you care about your home, a dry or scraggly lawn can only lead some to come to the conclusion that you don't care much at all.
Fortunately, boosting your lawn's appearance is among some of the more simple DIY home improvement projects. After all, what grass really needs in order to become more plentiful and greener is nothing more than water. By installing a garden sprinkler system around your home's property, you'll add to your lawn's freshness and potentially water other plants that you may want to grow as well.
After all, if you're already taking the time to improve your lawn's appearance, you might as well further enhance your garden by weeding the lawn, planting new flowers, or even some vegetable or fruit plants. Some homeowners are even taking this time to add new trees to their property. While a tree might seem like a daunting task, many of them are fairly easy to plant and grow. Much of the time, all you really need to do is invest in good fertilizer and ensure that you're devoting enough time to tree pruning and maintaining the overall integrity of your trees. In fact, many people find that this kind of hobby is a positive outlet during the pandemic and beyond.
4. Spruce Up Your Home's Exterior
While you're outside, you might as well take a look at how your home appears to those driving by. Too often, we focus so much on improving our home's interior that we fail to notice the wear and tear on its exterior. In fact, our home's exterior takes a far greater beating, particularly due to the kinds of weather conditions it can be exposed to over time.
A lot of simple DIY home improvement projects can be undertaken when you're trying to bring your home's exterior to its former glory. For example, while you'll want to leave a major paint job to the pros, you can touch up a few dull or worn patches of paint here and there if they don't require a ladder. You may also want to take the time to give your porch or patio a deep clean and (if you have extra space) think about installing a porch swing.
While power washing an entire home can be handled by professionals, you can potentially wash your driveway or a more stubborn part of your home's exterior on your own. Though you may want to invest in your own power washer, you can also potentially rent one in order to take care of the project by yourself.
5. Update Your Window Treatments
It's too easy to forget that just as our home's exterior takes a beating from the weather, so do interior windows. Window treatments are meant to be updated and replaced, yet a lot of homeowners don't take the time to do so. This can mean that your windows are allowing hot or cool air to escape your home, ultimately resulting in increased energy costs. By simply changing your window treatments, you'll potentially save yourself a lot of money over the course of the year.
Of course, these types of simple DIY home improvement projects can be further enhanced by the addition of window blinds. Blinds will aid your windows in blocking out the sun's rays, and therefore lower the amount of money you'll spend on cooling your home. Furthermore, the financial benefits aside in the long-term, adding in blinds will simply make your home more comfortable for you to live in. And if you're going to be spending more time at home, you'll definitely want it to be as comfortable as possible, right?
6. Check Your Safety Systems
We often take for granted the idea that our safety and security systems are working properly. The last thing you want, however, is for your fire alarms to fail when you actually need them to work. Don't assume that because they're being set off by smoke while you're cooking they're working perfectly. You should check your smoke detectors' batteries and replace them if necessary as part of your list of DIY home improvement projects. You don't need to be an expert on fire alarms to know whether or not yours is working as it should be.
With that being said, there is often more to the safety of a home than fire alarms on their own. A lot of homeowners more recently have installed security cameras and many more have added security alarms to their homes. While you may not be able to check all of your security systems entirely by yourself, you should still be able to self-check most of it. Take the time to make sure that your security systems are working properly. If they aren't, consult with security companies that you work with in order to ensure that you're as safe as possible.
7. De-Clutter Your House
De-cluttering your home is not reinventing the wheel when it comes to home improvement. However, it can make a big difference and involves relatively little effort. A lot of homeowners find themselves swimming in clutter, simply because they don't have the time to clean up to a significant degree. Right now is the time to really dig deep and look into what you need to keep and what you can get rid of. Many people who are suffering due to the COVID-19 rely upon charities and charitable donations. Why not make a pile of belongings that you want to keep and a pile of belongings that you can get rid of? You would be amazed by how quickly this will clear up the clutter in your home.
Of course, you'll probably still be left with a number of items that need to be stored properly. You can do this by setting aside storage space for your extra belongings and really focusing on putting them away in an organized manner. This way, when you want to take these items out and use them again, you won't have to look everywhere for them. You can take advantage of some of the many popular organizing systems that are trendy in this day and age, chief among them being the Mari Kondo approach.
There are only so many simple DIY home improvement projects you can get done with the free time you have on-hand, so don't feel bad or put pressure on yourself if you don't get as much accomplished as you expected. Nonetheless, this is a great time to tackle those tasks you've been putting off for years.
Right now, the best way to combat feelings of loneliness or boredom is to stay busy. And why not benefit even more by cleaning your home in the process? You don't have to do this on your own if you live with your family. Enlist your partner to help out or even your children to get involved with some of the easiest projects. If you really put your mind to it, once we get back to more of a normal routine as a country, your home will be looking better than it did before all of this began.