How to Save Money When Building a New Home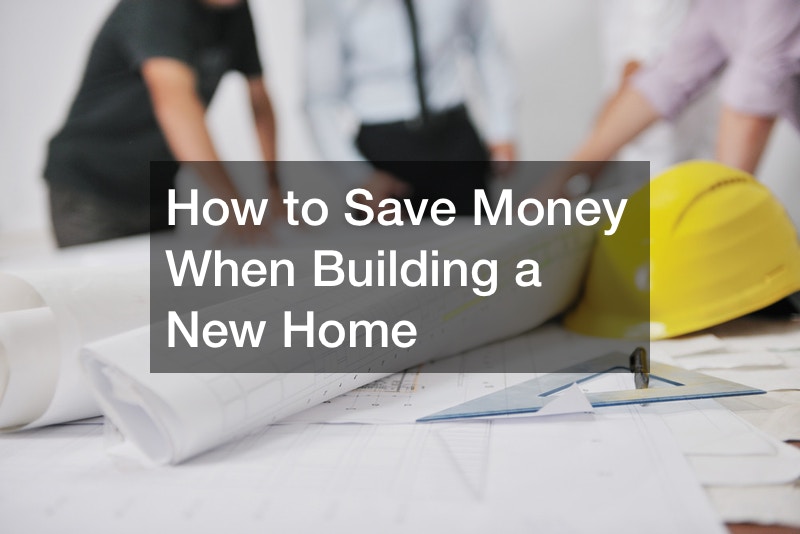 When you build a new home, you want to get exactly what you envision in your dreams. But to do this, you need to stick to your budget and make compromises on your design choices, materials, and labor.
Here are ten ideas for how to save money when building a new home.
Set a Budget
The first step to saving money on a new home is to understand where the money is being spent. To do this, you must have a project plan and a budget for all your project items.
In fact, one of the primary jobs of a general contractor is project management. As a project manager, the general contractor must identify all the costs associated with a job and try to quantify them for the client.
If you plan to hire a general contractor, try to be heavily involved in the project planning and budgeting. Review everything the general contractor prepares for you and ask a lot of questions, particularly when it comes to costs. You might find something that the general contractor missed or even something you can delete from the project. You can often save money on your new home from the very start by developing a cost-effective plan with a lean budget.
If you plan to act as your own general contractor, study other projects. Read about project planning and budgeting. Talk to contractors about your project and their suppliers.
When you set your budget, you need to make sure you account for everything you will need to complete your home. This could include many hidden costs. This is the reason many building projects go over budget. In many cases, inexperienced home builders forget to include certain expenses. Some expenses that novice builders miss include:
Building permits: Filing an application for a building permit costs money. If the local building department rejects the project after a plan review, you will probably need to pay an additional fee to reapply or appeal.
Residential pest control: Building projects remain exposed to the elements and pests for several weeks before the structure is enclosed. During that time, termites, ants, and spiders can move into the unfinished building. Remember you will need to get rid of these pests before you move in.
Construction trash disposal: Your building project will generate a lot of trash. The most efficient way to handle the trash is to rent a construction dumpster and pay a trash removal company to empty it for you. But this can be expensive.
If you know where the money will be spent, you know where you can save money.
Save Money on Your Lot
Generally speaking, the cost of your lot should be about 25% of your final project expenses. For example, if your overall budget for your home is $200,000, you should plan to spend about $50,000 on your residential property.
This is an important number to keep in mind. When you are trying to figure out how to save money when building a new home, you can often trim some costs from the cost of your lot. Depending on where you live, you may pay as little as $2,000 per acre of land or as much as $200,000 per acre of land for a vacant lot.
Some of the factors that affect the cost of your lot will include:
Road access: Lots in developed areas cost more than lots in undeveloped areas. One of the main reasons is road access. An area with paved roads will cost more than an area with no roads or dirt roads.
Utilities: Lots near utilities will often cost more than lots without utilities. The reason is that it can cost tens of thousands of dollars to have the water company, electric company, and gas company run lines to your vacant lot.
Proximity to services: Although most people claim they want a rural farmhouse, most people need to be close to shopping and work. A lot literally in the middle of nowhere will cost less than a lot with access to shopping and employment.
Property taxes: Once you finish with your home, you will need to pay property taxes and, in some areas, homeowner association fees. These fees can add up to tens of thousands of dollars per year.
Avoid Expensive Surprises
Any time you buy land, you run a few risks. By doing a bit of investigation upfront, you can avoid expensive surprises after you have already committed to a lot. Some due diligence tasks you might perform before buying a lot include:
Title search: You can conduct a title search on your own or hire a law firm to conduct a title search for you. A title search will show all the previous owners of a piece of property and ensure that there are no other claimants to your land who might cloud your title.
Court record search: You can search court records to find out of your property is the subject of a lawsuit. A court record search could help you avoid buying a piece of land from a buyer who ends up not being the legal owner of the property due to a lawsuit.
Zoning and land use review: A lawyer can review the zoning laws and land use restrictions that apply to the lot you want to build on. Nothing would be more shocking than buying a vacant lot for your dream beach house, but finding out when you apply for a building permit that your land sits in a protected wetland.
Ecotoxicology studies: Ecotoxicology is a new scientific field. An ecotoxicologist can study your land and determine whether any pollutants make your land dangerous to use. For example, if your lot is near a stream, it may look pristine but could be polluted by industrial runoff from upstream factories.
Source Materials from Building Suppliers
Have you ever wondered how contractors can turn a profit? They buy materials in bulk from building suppliers. When you are looking for how to save money when building a home, you should follow the example of those who build for a living.
Plumbers, for example, buy high-quality materials from a plumbing supplier. Their cost is so low that they are able to markup products 20-25% when they install them. So, pipe that cost the plumber $1,000 will be billed to the customer at $1,200. By buying pipe directly from the plumbing supplier, you save about 20% compared to having your plumbing contractor pick it up for you.
But even more importantly, building suppliers are usually less expensive than big box home improvement retailers. These retailers often mark material up by 30-50%. The same pipe you can get from the building supply company for $1,000 could cost $1,300 at a big-box retailer.
What does this mean for your project cost? If you have $200,000 budgeted for your project and spend $50,000 on your lot, you have $150,000 to spend on your materials and labor. A 30% cost overrun due to overpaying for materials means you overspent your budget by $45,000 — nearly the cost of your lot. But by getting your materials from a building supplier, you can get the same quality products that contractors use for a much lower price.
Be Flexible With Your Materials
You can often find a less expensive, and better quality, material by thinking outside the box. Material costs often depend on demand rather than objectively measurable quality.
For example, asphalt is a superior paving material to concrete. This is why roads are made from asphalt rather than concrete. Asphalt is more flexible than concrete, which means it does not need to be replaced as often. More importantly, asphalt is cheaper than concrete. Even including the costs of asphalt delivery, you will pay less per cubic foot of asphalt than concrete.
Another example of a good substitute material is PEX pipe. PEX is a strong, durable plastic. PEX pipe can be used in most places where you use copper pipe. PEX is more durable than copper and is easier to install. PEX is also cheaper than copper.
One way to find good alternative materials is to read trade publications. Manufacturers promote their products to contractors and builders through ads and articles. Reading the same materials as the professionals can give you insight into how to save money when building a new home through better and cheaper materials.
Insure Your Construction Site
While your home is under construction, you can insure your construction site with homeowners insurance. This may seem unusual, but your unfinished home can be insured against fire, theft, and vandalism by buying an ordinary homeowner's policy.
Thus, if your incomplete home accidentally burns down, a homeowner's policy will pay you. Similarly, if thieves steal the pipes from your home or vandalize your landscaping, your homeowner's policy will cover your losses.
The only loss that your homeowner's policy will not cover is theft of personal property not attached to the home. For example, if your tools are stolen from the build site, the homeowner's policy probably will not cover the loss.
Do Your Own Work Where Possible
Labor may be one place where you can figure out how to save money when building a new home. Some work might require a licensed contractor. For example, you probably cannot save money by installing your air conditioner instead of hiring an HVAC company. But you may be able to save money on labor elsewhere.
Bearing in mind that every state's laws are different, some jobs you can usually do yourself to save some money include:
Interior and exterior painting
Landscaping
Hiring and scheduling subcontractors for jobs that do require a license
If you want to build your home, you can act as your own contractor but hire a general contractor who advises you. General contractors may be willing to consult on an hourly basis to help you find subcontractors, acquire building permits, and schedule workers, so you can complete your new home.
Build During Building Season
If your home is in the temperate regions of the U.S., you will probably plan your build to begin as soon as the spring rains end and have your home enclosed before winter. By scheduling your construction during milder weather, you can avoid several inefficiencies that can drive up the cost of your project. Some ways scheduling can help you find how to save money when building a new home include:
Materials: By working on your home during milder weather, the chances that your building materials become weather-damaged can be reduced.
Labor: If your construction occurs in extreme weather, you may need to reschedule work around the weather. For example, your roof installation might need to be rescheduled around a rainstorm or snowstorm if you build your home in the winter.
Compromise Where You Can
If you get exactly the home you want, you might need to compromise on other features of your home. For example, if you planned to install a pool, you might consider above ground pool installation to save on excavation costs. In fact, an above-ground pool costs about one-third of an in-ground pool.
Since the lifetime of an above-ground pool is 7-15 years, you will have time to save for the in-ground pool while still having a pool to enjoy.
This is just one example of where you can compromise. Keep in mind that you could spend the rest of your life in your new home. Think of your construction as a long game.
Do Not Skimp on Safety
One place you should not cut corners is safety. Make sure you comply with all building codes and local safety regulations. And make sure you include your safety systems inside the build as well, such as burglar alarms and fire protection systems.
Building a new house can be very rewarding. And if you can keep an eye out for how to save money when building a new home, you can get what you want at your budget.