9 of the Best Home Improvements to Make Before Selling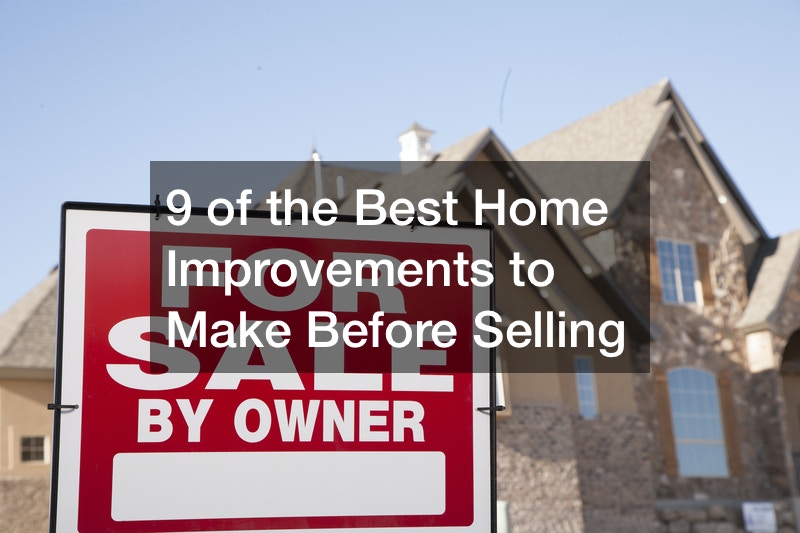 Is it worth your time to tackle renovations and home improvement projects before selling? The answer is — overwhelmingly — yes. The best home improvements to make before selling can add considerable value to your home, earning you more when it comes time to sell. That is not all. Realtor.com reveals that well-planned improvements can help your home sell faster or even help sell previously "unsellable homes." In fact, there is a brand-new show airing on HGTV with that exact premise.
'Unsellable Houses' stars twin realtors Lyndsay Lamb and Leslie Davis. Together, the real estate agents based in Washington State help homeowners make changes and adjustments to their homes that transform them from "unsellable" to highly marketable. Many of the home improvements, Realtor.com continues, aren't even major ones. That suggests that all homeowners can make changes around their home prior to selling and reap considerable rewards for their actions.
The consensus is in. It is possible to ramp up your home's value and to decrease the time your home spends on the market. What are the best ways to do it? Learn the best home improvements to make before selling.
Install A New Septic Tank
There are plenty of homeowners who choose to sell their homes as-is — or to be upfront with buyers that the home will need a little work to get it up to snuff. It may surprise you to learn that buyers are willing to make certain concessions — and sometimes more than you think — but very few people will purchase a home with an extremely dated or failing septic tank.
To upkeep your system, hire a septic tank cleaner once every three to five years to pump and otherwise maintain your system. Of course, after a number of years, routine maintenance isn't enough. For results, you will have to install an entirely new septic tank and drainage field. Here are some red flags that your system is failing and needs to be replaced as soon as possible:
Foul smells. If your home and water smells, it may be time to replace your septic tank. Contact a professional for an inspection. That will give you some insight into the current state of your system.
Wastewater backing up into your home. If your septic tank or drainage field is too full, wastewater and sewage may back up into your home, typically in the kitchen sink. While pumping the system may help, it may also indicate that there is a major problem with the way your system is functioning and draining — or, more accurately, not draining.
Your lawn is covered in standing water. Another sign of a serious drainage issue is pooling water in your backyard. Standing water smells, attracts pests like mosquitos, and may even contaminate the surrounding soil. If pooling water is a persistent problem, it may be a sign that your system is reaching the end of its life.
Whether your system is years old or brand new, hiring a sewer cleaning service prior to selling your home is a prudent measure and one that may make your home slightly more desirable. If your system is showing signs of serious wear and tear, you should know that a failing system needs replacing to sell your home quickly and perhaps to sell it at all.
Enhance Curb Appeal
The very best home improvements to make before selling enhance curb appeal. If you are looking for projects that will increase your home's value prior to selling, working on curb appeal is the perfect solution. "Homes with high curb appeal tend to sell for an average of 7% more than similar houses with an uninviting exterior," the National Association of Realtors (NAR) writes. In some markets, homes may sell for up to 14% more. The reasoning is simple. The exterior of your home is the first thing prospective buyers will see. Just about all of them will form an impression based on what they see outside — and before they ever step foot inside the door. The right curb appeal will tip the scales in your favor or perhaps even encourage people driving by to stop and view your home.
To increase your home's curb appeal and sell your house for more:
Transform your landscaping. While you are showing your home, keep up on lawn maintenance and then some. Keep your lawn perfectly manicured. Mow the lawn, fertilize the lawn, and edge grassy areas near the driveway, pathways, and fencing. Pressure wash the driveway and your sidewalks and plant a variety of colorful plants that will draw eyes to your home.
Give the driveway a facelift. A driveway that is old and worn can have a tremendous impact on the way buyers perceive your home. The good news is that doing something about it doesn't have to be expensive. Re-paving the driveway with asphalt will cost just $100 to $825 — depending on the dimensions of your driveway — and will immediately make your home look like new. A fresh layer of asphalt looks clean, crisp, and ready to go. If you want to choose something more elaborate or ornate, choose a brick driveway or a driveway lined with elegant brick pavers.
Paint the front door a new color. A fresh coat of paint works wonders, and that applies to your front door, too. Repaint your door, and replace any dated hardware, like doorknobs, house numbers, or knockers. Choose red or blue for a front door that stands out in a good way.
For the best home improvements to make before selling, think about curb appeal. Anything that improves the outer appearance of your home will add value to it.
Repair Appliances
Dated, malfunctioning appliances can be a real drag, even in otherwise beautiful and highly marketable homes. Most buyers will plan to use appliances every day — or close to it — and putting up with several appliances that just don't work properly may turn them off completely. Of course, shelling out the money to replace them is expensive and may be an equally unappealing option. For these reasons, fixing appliances is one of the best home improvements to make before selling. Attractive, high-functioning appliances can make all the difference when you are selling your home.
Prior to selling, make a point of repairing your dishwasher, refrigerator, microwave, oven, washing machine, and dryer.
Eliminate The Possibility Of Mold
Another critical tip is to rid your home of mold and take steps to actively prevent mold from growing while your home is on the market.
For homes with serious mold growth, it is best to call mold remediation specialists. Mold remediation specialists will help eliminate mold in areas greater than 10 square feet, and they will use the most effective and environmentally friendly products to do so. Once you have successfully removed the existing mold from your home, take proactive steps to prevent mold from building up again. To do that, control moisture levels in your home, clean up any leaks or flooding within 48 hours or less, and regularly clean and dry any areas or materials particularly susceptible to mold, like bathroom tiles.
Mold remediation is one of the best home improvements to make before selling — if you follow up on it. After removing mold from your home, it is important to prevent the growth of future mold to make your time and investment worthwhile.
Invest In Roof Repair
A new roof packs an impressive return on investment (ROI). According to Home Advisor, installing a new roof will recoup 85 to 109% when it comes time to sell. Plus, real estate agents agree that given two houses with similar layouts and features, a home with a new roof will sell much faster than a home with an old one. What is the final word? Is a new roof one of the best home improvements to make before selling? To answer that question, consider the following:
How old is your roof? Roofs have an average lifespan of about 15 to 25 years. If your roof is practically brand new — just a few years old — it may be worth your while to look into the cost of various roof repairs instead of replacing your roof altogether.
How much time do you have? Under normal circumstances, replacing your roof will take just a few days… maybe a week tops. In the midst of the global pandemic, more people are working on their homes than ever before. That means there is a shortage of materials and some contractors are not available to complete projects immediately and ask that you observe a certain waiting time. Call ahead to see if this applies to your situation.
What are the ways a new roof can add value to your home? Some roofs are more energy-efficient than others. Some types are easy-to-maintain or completely fire-resistant. Consider the perks of your new roof and how that will contribute to your home's value.
Complete A Minor Kitchen Remodel
To get the most bang for your buck, one of the best home improvements to make before selling is a minor kitchen remodel. According to NerdWallet, you can expect a return on investment of 83% or more for a minor kitchen project.
Minor projects may include adding a new backsplash, repainting the walls, repainting or refinishing the cabinets, and/or replacing the appliances or flooring. Ripping out the cabinets, installing a new sink, or opening up the layout of your kitchen would constitute a major remodel. Talk to kitchen remodeling services about what projects are best.
Make Pest Control A Priority
Often, the best home improvements to make before selling are also some of the most practical ones. Pests are not going to do you any favors when you are trying to sell your home. In fact, telltale signs of pests may deter buyers as they view your home. If the home inspection shows significant damage from pests, buyers may back out of the sale.
Keep your prospects good by investing in termite or rodent removal services. Fix any structures or materials that pests destroyed. For example, if rodents have chewed their way through wiring or drywall, rewire the affected area and replace missing or chewed drywall.
Replace Old Siding
Popular siding options, like vinyl siding, promise an ROI of at least 80%. Peeling, chipped paint, high energy bills, faded siding, siding with caked-on dirt, mold, and mildew, or warped siding are telltale signs that it is time for siding replacement. Set aside about two weeks for the project. Once installed, vinyl siding is incredibly low maintenance and does not require painting.
Clean Up Your Garden Shed
Many buyers will be pleasantly surprised to discover that you have a shed in the backyard — that is — until they see the state of it. Don't let a dirty, disused shed turn away buyers who would otherwise welcome one. If your shed is looking a little worse for wear over the years, there are several ways that you can spruce it up and do it relatively quickly. First, ensure that your shed is pest-free. Do that by plugging up any holes. Even holes slightly larger than a dime may be large enough for a mouse to squeeze through. Keep all food or potential sources of food, like corn-based cat litter, out of the shed. Add a fresh coat of paint, shutters, and hardware for a shed that really stands out. Hardware may include decorative hinges, planters, lighting, awnings, and more.
What are the best improvements to make before selling? While every buyer is an individual with unique preferences, there are several home improvements that pay more than others. Prioritize home improvements that improve curb appeal, address an immediate and pressing problem like a malfunctioning septic tank or a pest-riddled home, and make the house look nice. Remember that kitchens and bathrooms are some of the most heavily trafficked areas in the home, so kitchen remodels and bathroom remodels — yes, even minor ones — will pay off considerably.