15 Ways A Home Renovator Can Help You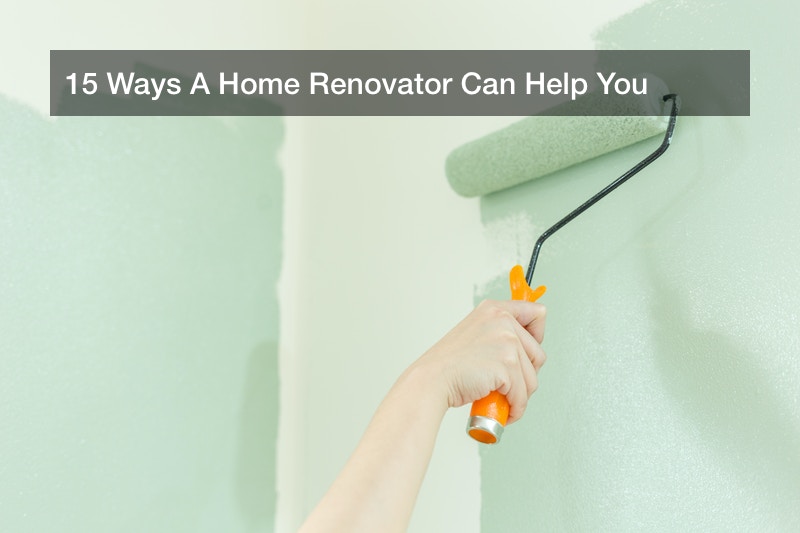 Home renovation projects are exciting, fun, and can increase the value of your home if done right. However, home renovation projects, when done poorly, can not only cost you thousands in repairs, but also pose hazards and be unsafe. It's important to consult the help of professional home renovators to avoid additional costs and follow safety during home renovation projects. In the U.S. alone, home improvement expenses amounted to about 394 billion dollars in 2018. Many people still want to renovate their homes, but don't really know where to turn.
With the help of professional renovators, you can rest assured you'll get the right design, tools, and help to start any of your projects. The advantage of using professional home renovators is that you'll be able to better prepare for your project, and also get second opinions. Though it may cost you a little more to hire professional home renovators, rest assured it's a price well paid for.
When to Hire Home Renovators
It's important to consider the scope of your project first and foremost, as well as your budget. For example, you can easily install your own shelves, plant a mini garden, or do a myriad of other do-it-yourself projects. But what about roofing? Replacing siding? Plumbing? Other routine maintenance? Hydraulic services? Consider the possibilities of your home renovation project, and look at these 15 renovation and maintenance projects that can be done with the help of professional home renovators.
1. Interior Designers
The design of your home is incredibly important to make both yourself and your guests feel like they're part of a unique experience inside of your home. A home is more than a place to put your things- it's a reflection of you. Professional home renovators, and more importantly interior designers, understand this and put it into action. An interior designer can help you not only plan out what your home will look like, but also the minute details that matter. These include spacing of furniture, color and design, lighting, flooring, and the functionality of your space. Hiring an interior designer to help you choose what furniture you would like, and the overall look of your home can help you save time and money before having to subject to trials and errors. Consider hiring a professional designer before renovating your home, and working out the design of your using renderings and 3-D images before committing to a single design.
2. Roofing Renovations
The integrity of your roof is highly important to maintain, and it can only be done right with the help of roofing contractors. Roofing specialists are some of the most important professional home renovators you can hire. A roofing contractor can help you choose what tile to use to protect again harsh winters or dry summer months when shingles can crack and shrivel. Hiring someone to install new roofing for your home can also help if you would like a chance to go green. Maybe installing new solar panels, or changing the tile of your roofing can have an impact? A professional will be able to answer your questions and get your home looking great and renovated for the next couple of decades.
3. HVAC Maintenance
Replacing your HVAC system is one of the best renovations you can do, both to be comfortable and also healthy within your own home. HVAC stands for heating, ventilation, and air conditioning system. An HVAC replacement or even air conditioning installation can significantly improve the air quality of your home, saving you from hazardous dust and allergens. It's important to not just change simple filters and do routine maintenance on these systems. If you feel your home renovations are falling behind, consider having a professional take a look at your HVAC system soon.
4. Sewage Services
Another important renovation to consider getting help with is your sewage system. The sewage system of a home extends far beyond the home itself and is essential to maintain in order to avoid costly damages that can lead to nasty situations in your kitchen, bathroom, and everywhere else your sewage system connects. Professional home renovators can help assist you in sewage restoration, and help you understand the inner workings of your sewage system and whether or not you need repairs. Your plumbing vents, septic tank, drain field and groundwater should all be observed and maintained carefully throughout the years. Only a professional will help you become better acquainted with this costly renovation.
5. Plumbing Services
Though you don't have to hire a professional to do simple unclogging of your toilet, don't think you are capable of doing all plumbing renovations and maintenance on your home by yourself. Though a plumbing service isn't as big of a project as the above-mentioned septic tank pumping, for instance, it's important to hire a professional plumbing service and professional home renovators when tackling a new renovation project involving your plumbing. Installing a new garbage disposal to your kitchen, drain cleaning and mainline cleaning are all great renovations to begin, but must be done by a professional to get the best results.
6. Heating System Renovations
Whether you want to upgrade your home and get a central heating system that is controlled with the touch of a button, or you want to simply replace the old furnace that's been keeping your home warm since the last homeowner, heating system renovations are important to consider and get professional home renovators to help you with. Not only will upgrading your home's heating system help in keeping you comfortable, but also help in saving on energy costs.
7. Window and Door Renovations
Windows and doors represent a home, and can last you for as much as 20 years. After this, however, it's important to consider renovating and possibly replacing your windows and doors to save on energy costs, reinforce your home, and prevent drafts from getting into your home. Like heating, having a good window and door replacement with the help of professional home renovators can save you money on energy costs. In addition, it can also help you modernize your home by using the many styles of windows and doors out there today.
8. Professional Painting
Deciding to renovate your home can be fun and doesn't just have to involve maintenance like roof repairs and septic replacement. Painting your home can be a great home renovation project that can increase the look of your home tenfold, either painted inside or outside. Hiring the help of professional home renovators to paint your home can help save you costs in case of accidents, and help you understand the longevity of your paint job. Professional painters can go through all the proper steps, such as clearing out a home, setting up plastic coverings, designing wall patterns with the use of various tools, and also guarantee you have the best, longest-lasting paint for your home.
9. Landscaping
Landscaping is a project that most certainly needs the assistance of professional home renovators. Landscaping projects can vary in magnitude, and don't just include simple gardening projects. Landscaping extends to asphalt paving, redoing the look of your patio, installing outdoor architectural pieces, and dealing with the environment and any building codes your home might have. Landscaping renovators can help you avoid any mishaps that may occur if you decide to tackle a project on your own, and help you feel confident in your design and installation of landscaping projects.
10. Renovate your Garage
If you find yourself doing a myriad of projects such as carpentry, working on your car, and doing other improvement projects, having a garage that is big enough to handle your projects would be a smart idea. A garage can help you save space on storage, and even provide a space to draw up blueprints and ideas. It's important to hire professional home renovators to make things such as garage door repair, garage flooring, and other maintenance on your garage easier on you.
Consider looking into garage door sales and hiring a professional to help you get started in turning your garage into a full-fledged work station.
11. Basement Renovations
Basements aren't the creepy, mysterious parts of a home they once were thought to be. Basements are now the go-to room for man caves, dens, and other gorgeous rooms of a house. If you have big plans for your basement, consider the help of professional home renovators to help you understand how to go about renovating this foundational part of your home. Not only will you need to consider the foundation of your home itself, but things like flooding, circulation, lighting, and pest control to make your basement a hot spot in your home.
12. Studio Set-Ups
With more and more people working at home, a popular renovation project many consider now are home studios. Studios don't just have to be a simple work station with a desk and pen. Elaborate set-ups can include installing a DJ mixing set, multiple computer screens, sound-proof microphone booths and so much more. If you're in the music or video production business, it's important to seek the help of professionals to avoid any technical errors in your studio renovation project.
13. Kitchen Renovations
Your kitchen, if you're like many other homeowners, is the center of your home more so than the living room. The kitchen is where people gather to cook, eat, converse, and share memories. Professional home renovators can help you with various projects, such as replacing appliances, cabinets, and counter-tops in your kitchen. Kitchen renovations can not only make you feel comfortable for the time you live in your home, but also increase its resale value. More and more people like the idea of an open floor-plan, a kitchen with huge windows and modern appliances, and also a kitchen with energy-efficiency in mind. Take all these into consideration when planning with a professional for your next kitchen renovation project.
14. Bathroom Renovations
Though small projects can be done within your bathroom to renovate it, such as adding new showerheads or replacing the toiletries and decor, professional home renovators need to help you when considering bigger aspects of bathroom renovations. For example, replacing your bathtub, the look of your sinks, and plumbing services within your bathroom all must be handled by a professional. Don't leave anything to chance, and consider professional contractors when looking to renovate your bathroom.
15. Flooring Replacements
Flooring is important not only to save you on energy costs, but also to tie the home together. Whether it's wood flooring, tile, marble, polished concrete, or carpet, flooring replacements aren't easy. If done wrong, flooring can end up posing not only a hazard to your safety, but also ruin the look of your home that is hard to fix. Professional home renovators will be able to help you replace and repair flooring when you need it most. Flooring can also help you increase the resale value of your home. Polished concrete and wood floors, in particular, are easier to maintain and more attractive to younger homebuyers.
Stick with Professionals
Home renovations can help you change the look of your home, improve your quality of life, and make you more comfortable while you're living in it. You can improve the longevity and quality of your renovations with the help of professional home renovators, and in this way save more money in the long run. It's important to consider not only the routine maintenance all homeowners should keep up with- HVAC systems, roofing, windows, and doors, but also the renovations that make your home inspire you. Nowadays, more and more people want to install modern bathrooms and kitchens, own studio offices, and updated garage work areas to their homes. Whatever you decide to do, do it with the help of professionals, stick to your renovation goals, and more importantly, have fun with your projects.