Why You Need to Hire a Roofing Company for Roof Repairs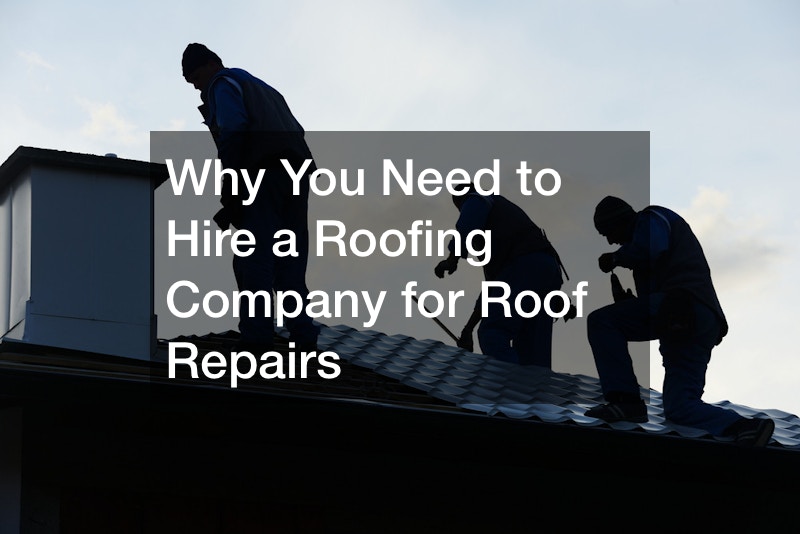 An experienced do-it-yourselfer (DIYer) might view repairing a damaged roof as a challenge, but in this article, we explain why hiring a professional roofer offers the better option. Besides ensuring an aesthetic roof, hiring a roofing pro maintains the roof's warranty and handles a dangerous job, so you don't have to do it. Let's explore in-depth why you need to hire a roofing contractor to make roof repairs.

They Will Offer Quality Services
In your quest for an aesthetic roof that protects your home and its contents, count on professional residential roofing companies for high-quality services. The individuals at these companies undergo training on the installation of the roofing types the company installs and the brands it specializes in installing. For example, TAMKO Shingles and GAF offer installation certification to roofing professionals who complete their manufacturer training course in installation. These product-specific courses ensure the installer knows the appropriate method of using each technology related to the product, including manufacturer-specific adhesives, sealants, etc.
Local professional roofers provide high-quality roofing repairs and installations or they earn no business. Hiring a local roofing contractor ensures that you can visit the homes they roofed to see their quality of work. Ask for references when you obtain a quote on roofing repairs, so you can phone each homeowner to inquire about the repairs or installation a roofer made and their customer service.
They Will Provide Professional Advice
Hiring local roofing services ensures you obtain the best advice on your roofing choices. While you want an aesthetic roof that matches your exterior design, you need a sturdy roof that protects your home. A professional roofing expert knows the range of building materials available and which best provides protection for your home.
A roofing pro knows about products that protect your home while providing it the curb appeal you desire. For instance, you might reside in an area prone to hail and high winds, which requires a roofing material rated a 3 or 4 with a wind rating of 150 to 160 mph, but you want cedar shakes. A local roofer might recommend an architectural shingle that looks like cedar shakes but offers level 3 or 4 impact ratings. This tough material would provide strong hail protection and the desired appearance.
They Will Offer Different Materials
Speaking of the variety of building materials, in your search for an aesthetic roof, you might uncover the ideal product, but the manufacturer may only sell it through distributors or its certified roofing contractors. Hiring a local professional roofing contractor gets you the materials you desire and a professional installation of them. You also might approach a contractor about one material, only to find that they know of and can obtain a better-suited option that provides everything you want.
Most individuals know what they see about roofs and in the U.S. they see asphalt roofs on 83% of houses. A professional roofer can educate you on the many roofing materials available to you, including copper, galvanized steel, slate, cedar shakes, asphalt three-tab shingles, architectural shingles, clay tiles, and aluminum. A roofer can explain that updating your roof can transform the exterior of your home and provide an instant increase in home value and curb appeal. Like replacing a garage door, a new roof works to remodel the home's exterior.
Today's roofs come in a wide array of colors, but most people think they must choose between gray and black shingles. Instead, regardless of the type of shingle or metal, a homeowner has about 20 to 25 options. Match your roof to the navy blue trim of your home or remake your home's appearance by topping it with a red roof. A roofing professional can help you develop the home's exterior aesthetic, while better protecting it from the elements.

They Will Save You Time
Trying to make roof repairs on your own results in time wasted. That's because most roofing materials manufacturers stipulate that a professional contractor must install the shingles or sheeting to activate the full warranty. You might manage to repair it and make it look good, but your aesthetic roof won't be under warranty. What's worse is that by repairing it yourself, you could void the warranty on the existing roof.
Even for an experienced DIYer, it would take many hours of reading and watching instructional videos to learn how to appropriately install moat roofing systems, which consist of seven or more layers of materials. Because you won't have access to the company's proprietary training materials for professional contractors, you won't know how to appropriately install the materials. This not only negates the possibility of an aesthetic roof, but it could result in greater costs if the roof still leaks after you patch it. Instead of spending money on a DIY patch and a professional one, just go with the professional roofing contractors.
Skip the extra work for yourself of learning how to patch a roof. Also, forgo practicing your first repair on your home. Instead, build a birdhouse or dog house to fulfill your DIY dreams. Your home and its residents deserve the protection of roof repairs done right.
They Will Meet Your Home Aesthetics
Professional roofing companies help you achieve your goal of an aesthetic roof that matches your overall home exterior. Because roofers undergo schooling related to building materials, design aesthetics, building safety, and much more, they can offer advice on how to match materials purchased at different times. These building pros also recommend materials that would provide improved protection and performance, when the home's existing roof requires replacement.
We mentioned this in passing above, but hiring building professionals leads to better results because they specialize in one type of work. Each company employs design experts whose job consists of knowing every available material, which works best for each situation, and designing with aesthetics in mind. These experts can help choose colors, materials, installation options, and accessories that compliment your home.
Count on professionals like these to offer design suggestions, such as roofing gutters and downspouts that could help keep the new roof healthier than the outgoing one. These experts know whole product lines by heart, so when you choose a new yellow metal roof, for example, they will offer up gutters and window shutters that would match furthering the pleasing aesthetic you want to create.

They Will Save You Money
Whether you need a residential roof replacement or a simple roof patch, you can save money on your aesthetic roof by using a trained contractor. Many roofing contractors offer specials on their services or financing options. Some of the latter offer zero percent loans, so you can break the cost up into affordable monthly payments. Roofing professionals can offer you other ways to save, too, such as deals on materials and valuable advice that can save you money over the life of your home.
Some roofers offer a discount on materials purchased through them. This can result in savings over buying through a home improvement store. It can also help you purchase more expensive shingles at a lower price than you would obtain on your own.
Most asphalt shingle roofs last for about 15 years, but some architectural shingles make it 20 years. The majority of homeowners need to replace their home's roof at least once during their ownership period. Consulting with a professional roofer can result in advice that helps you replace your roof with a material that lasts an ownership lifetime, such as metal roofs that typically last 50 years or more. Using longer-lasting materials results in fewer roof replacements, which translates to savings over the life of the home.
A roofer will explain the overall saving of materials with greater longevity. If a homeowner plans to age in place, meaning they plan to reside in their home until death, installing a metal or copper roof can save them money. It will typically be the only replacement needed.
The cost of roofing materials and installation ranges across the U.S., but the typical roof costs between $8,000 and $40,000 to replace in 2023. Costs have risen in past years and probably will continue to do so. Purchasing a long-lasting roof as a 40-year-old homeowner means installing a roof expected to last until your 90th year or so. Using a short-term material that lasts up to 20 years results in three replacements, one at 40, one at 60 years of age, and one when the homeowner reaches 80 years old.
A professional roofer can walk you through the math of these many replacements, but here's the summary. At 40, the homeowner can easily afford a new roof and at 60, probably still works, but may use financing for the purchase. That results in them carrying debt into retirement. At 80, and on a fixed retirement income, a homeowner may not want to finance or may not qualify for a loan. Insurance covers sudden damage, not general wear and tear, so when a professional roofer suggests a metal roof, they're offering long-term cost savings that move the brunt of the cost to when most homeowners find it easier to manage.
They Will Offer Free Estimates
Sometimes, roofing damage offers you an opportunity for free or low-cost home improvement. Check your homeowner's insurance policy to see if it covers the damage caused. If it does, file a claim to put your annual premiums to work for you. Many roofers offer assistance with paperwork filings, including free estimates.</>
You might contact professional roofers for repairs to maintain an aesthetic roof, but learn during the estimate/quote process that your roof requires replacement. Repair and maintenance professionals who also handle roof installations can help you approach your insurance company. Some roofers will accompany you when the insurance adjuster visits your property, refuting incorrect observations and providing a guided tour of damage that they might otherwise miss.

They Will Offer Warranties
A professional roofing company typically offers a warranty on installation. These warranties often accompany a manufacturer warranty on the materials. When the homeowner hires a contractor certified by the roofing materials manufacturer, such as TAMKO or GAF, the materials manufacturer offers two warranties, including one on the material and one for the installation. Check the roofing shingles maker's website for a list of certified roofing contractors to hire for the easiest way to obtain these warranties.
While DIY-ing a roof repair could ruin your aesthetic roof, hiring a manufacturer-certified contractor can provide you with an aesthetic asphalt or metal roof and up to three warranties! Some of these warranties last up to five years longer than the typical roof replacement, making them an even greater value.
They Will Offer Maintenance Packages
Most professional roof installers also offer repairs and maintenance packages. Once you have the ideal home exterior aesthetics, why not maintain the roof's appearance and performance? Hire a pro roofer who offers all three services, so you can use the same service to upkeep your new roof as the one that installed it.
Roofs need annual maintenance for best performance. The roofing installer should also offer annual inspections. Some companies offer these for free, while others make this service a component of their maintenance package. Purchasing a maintenance package for your roof can help you lock in lower prices on necessary services.
Consider each level of maintenance package. Look for one that includes both services and materials for wear and tear repairs. Most of these packages do not cover sudden damage, such as that caused by hail. The roofing warranty and homeowners insurance cover these two items.
Hiring a Professional Roofer
Although it may seem tempting to try to fix your own roof, roof repairs don't fall within the realm of do-it-yourself repairs. Hiring a roofing professional can nab you deals on materials, additional warranties from the manufacturer, and annual maintenance from the original installer. Acquiring at least three estimates on the roofing repairs ensures you hire a pro roofer at a reasonable and fair cost.